Catchers: Tips, Drills, Information, Catching Equipment, Catchers Gear
Basic Skills
Stance

Setting Up

Receiving

Framing

Blocking

Throwing

Leadership
In-depth Skills
Relays, Cutoffs, and Plays at Home

Signals

Calling A Game

Catching Bullpens

Covering Bases

Pre-Game Routine

Umpire Rapport

Misc. Situations and Plays

Glossary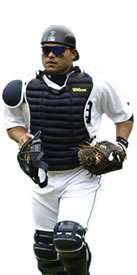 One area in baseball that receives little attention from coaches is teaching proper catching techniques. In general, there is not enough practice time devoted to it and the result is a lack of quality catchers at all levels. The reasons for this can be attributed to a number of things, but mainly, the blame falls on coaches for not setting aside practice time and a coach's lack of catching knowledge. The following guide is for beginning and experienced catchers and coaches. Visual aids are provided to clarify key concepts and provide examples of correct techniques. A list of key terms and phrases is also provided at the end of each section to review the important points covered in that section. You will find some advanced tips here as well. For your convenience, a glossary of terminology is also provided.
Job of the Catcher
The catcher has the most thankless job on the field, but yet, is the most important position besides the pitcher. As a catcher you are involved in every single play. You are the conductor of an orchestra and the players on the field are your instruments. A catcher has a number of responsibilities, each one just as important as the other; signaling pitches, relaying plays and bunt coverage, blocking wild pitches, and throwing out runners attempting to steal are only a few.

As a catcher, you need to be aware of everything on the field and you need to know what to do in every possible situation. For example, you need to know: What is the score? How many outs are there? What is the count? What type of hitter is up (his tendencies.can he hit a curveball)? Who's on deck and what type of hitter is he? What pitch should I call next? Is the defense set? What about base runners? Are they fast? If the ball is hit to the gap where is the relay supposed to go? Is there a possible play at home?

These questions and others need to be answered on every single pitch. This may seem like a lot to think about, especially to players just starting to learn the position, but with practice, experience, good coaching, and this tutorial, the answers to these questions will become second nature.


Catching 101
OnBaseball.com